Summer is here, and so is wedding season.
Wedding gifts can be an incredibly tricky item in the thoughtfulness category.
It is challenging to buy a personalized gift for a couple unless you know them extremely well
i.e. sibling. best friend in the universe. etc.
Even then.
Perhaps the couple has been living together for a while and already have all of the house gadgets and linens that they need.
Perhaps they are trying to minimize the clutter in their lives.
Perhaps they have an eclectic, artsy, country, traditional ..... (the list goes on) style that you just can't seem to match.
Here's my thought on this whole matter.
How to Choose The Perfect Wedding Gift.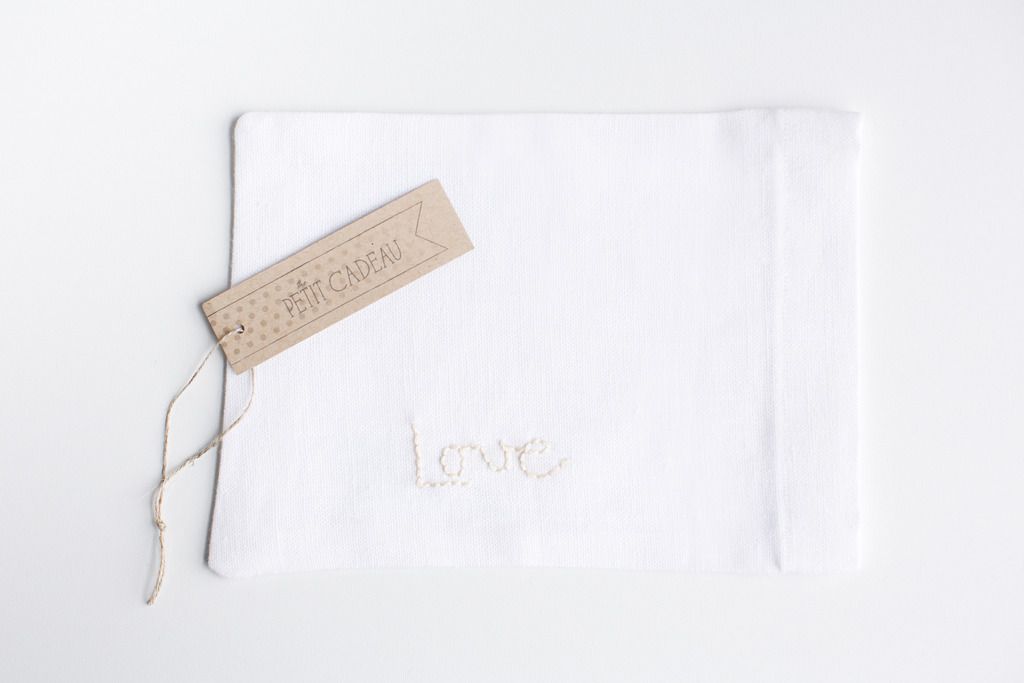 Give money or gift certificates, but make it personal and BEAUTIFUL.
Here's what I've been gifting. I started making heirloom linen
gift bags
, hand-embroidered with the word "love" in my handwriting. They are perfectly sized at 6" x 8" to act as a stunning envelope for a handmade greeting card + a couple of other goodies, if you choose.
Imagine your card in a handmade fabric gift envelope, the shining star among all the other cards in the wedding card "fishbowl". It will be sure to stand out as a thoughtful gift.
The "love"
wedding gift bags
are reusable and can be passed along from generation to generation. I encourage couples to use them to store all of the special cards from their wedding day, or, to use the bag year after year to gift small moments to each other on their wedding anniversary.
Add a Handmade Greeting Card
I chose the word "connection" as my word of the year for 2015. As such, I've teamed up with Kaitlyn from Canadian stationery shop
isavirtue
to offer the "love" gift bags in a limited edition set with a handmade greeting card.
Write your message to the happy couple on a gold-embossed greeting card "first comes love, then comes marriage", then tuck it inside your fabric
gift bag
.
Slow Gifting
As part of my slow gifting philosophy, simple is better. By adding the extra little touches to make your gift beautiful, it becomes memorable. It becomes something to keep and treasure.
It says "I care about you deeply" while still allowing the couple to make their own choices.